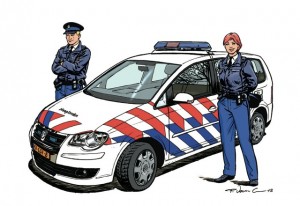 24/7
From the daily life of two young police officers, the adventures of Herre and Marleen are told in the 24/7 series.
In the first part; Police stories of the street, we meet the Dutch Police and how they do their work in the middle of society.
The second part will appear in February 2018 under the title: Special stories from daily practice. Herre and Marleen take us today into daily situations where police officers are affected.

24/7 – Part 1: Police stories of the street
Script: Sytse S. Algera
Illustrations: Patrick van Oppen
Webshop: Buy here.

24/7 – Part 2 – Special stories from daily practice
Illustrations: Patrick van Oppen
Script: Sytse S. Algera
(appears in 2018)

24/7 Part 3; The police work in the picture
Script: Sytse S. Algera
Illustrations: Patrick van Oppen
appears in 2019